Life is busy.
One day last week I found myself saying "no" A LOT!  How easy it is to get busy with the tasks of life and not take the time to do the activities and show the affection that are of genuine importance. With all the duties of wife-dom, motherhood and home education beckoning me daily, I often shoo off the little seemingly unimportant requests. As I pondered my attitude and my goals of motherhood, I decided to make a list…
10 Requests I always want to say yes to:
Will you read this book to me?  (even if it is the thousandth time!)
Can I sit on your lap?
Will you have a tea party will me?
Please, come look at this bug, mom.
Will you carry me to my bed?
Will you sing me a song?
Will you come play with me?
Can I have a hug?
Will you hold me?
Can we go for a walk?
Oh and how can I forget?
Tickle me.
Twirl with me.
and
Can I have a piggy back ride?
May your Tuesday be filled with "yes's"!!!
If you enjoyed this post please join us on Facebook.
Don't forget to check out the link up over at Many Little Blessings and Weird, Unsocialized Homeschoolers.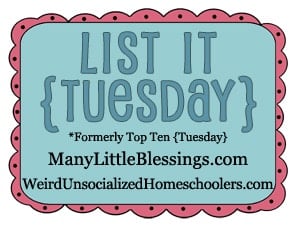 AMAZING SINGLE PAGE HOMESCHOOL DAILY AND WEEKLY CHECKLIST"